Business Builders Group Parramatta Event in alliance with BGES.co
Business Growth and Exit Specialists are excited to announce an upcoming exclusive event; The Business Breakfast Launch of the innovative, pragmatic and game-changing Business Builders Group Parramatta Chapter.
The event will be fun, educational; you will get to meet some amazing people and find out how this business opportunity can help you to grow your business significantly.
As places are limited to only thirty business leaders, we urge you to register promptly using the link below on the Eventbrite Registration Page:
The Event Details:
When: Friday 28th October 2016
Where: The Waldorf Parramatta
Address: 110 -114 James Ruse Drive, Rosehill NSW 2142
Time: 7:30am-9:00am
Eventbrite Registration Page: https://www.eventbrite.com.au/e/join-our-exclusive-parramatta-business-builders-community-free-breakfast-tickets-28446145186
We look forward to catching up with you at the event.
Business Builders Group is a worlwide community that helps SME owners and leaders grow; through professional development, collaboration and the generation of warm referrals from people that they know, like and trust.

Membership of each BBG Chapter is carefully screened to ensure complementary, non-competing businesses are grouped with other businesses at a similar stage of development.

Under the watcful eye of an experienced professional business coach, members are guided through a process to get their business referral-ready and are equipped with the tools and resources they need to make sending and receiving referrals easy, maximise their lead-conversion rate and identify collaborative new business opportunities.

To find out how Business Builders Group can help you achieve your growth objectives, please register to attend one of our monthly Business Forums or Briefing Sessions in a location near you.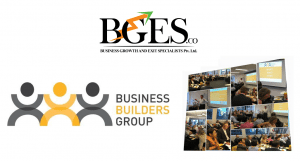 10 Reasons To Consider Joining Business Builders Group
Highly skilled business development experts chair each group and can provide you with additional training and support, if required
Training provided to help you get your business referral-ready and maximise your lead conversion rate
Only 3 hours a month of your time required (of which only 1.5 hours fall inside normal working hours)
More leads. Delivered by our structured referral process, training, mentoring and best-of-breed tools
Problem solving provided to help you address the business issues that are keeping you awake at night
Private training available to help you get full value from your Business Builders Group membership
Referrals made easy by a best-of-breed mobile app. Send and receive leads with just three taps
Selective membership screening to place you in a group of complementary non-competing businesses
Development pathways available to assist with further training and development. For you and your staff
Affordable. At less than $4 a day your membership will cost you less than the price of a cup of coffee
(Source: https://www.bbg.business/)